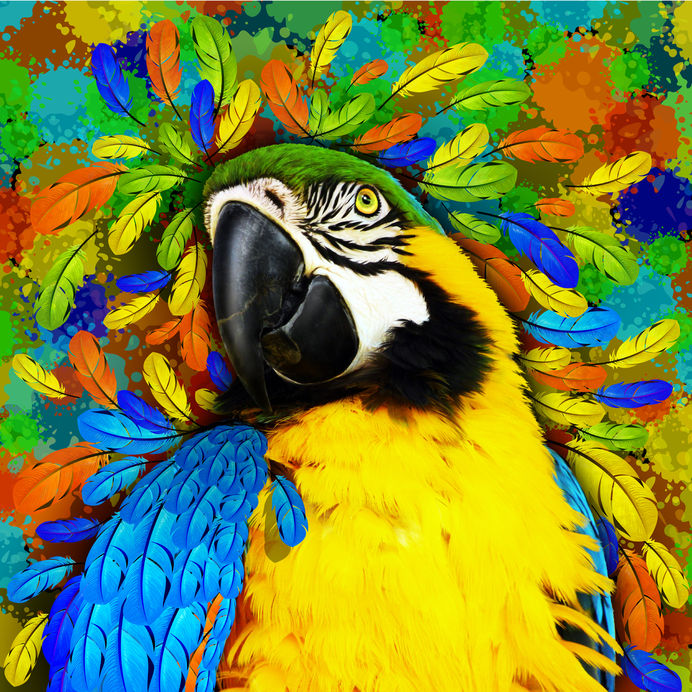 Post processing of bird photos is extremely important for making them realistic and suitable for commercial stock usage. Your image is competing with millions of other photos and when your photo isn't something exceptional, it is the post processing that would make your image stand out of the crowd. Here is a suggested workflow:
Shooting in RAW is important. After uploading the RAW, apply noise reduction settings, initial in-camera sharpening settings and chromatic aberration correction using the RAW processing software supplied by the camera maker. Carefully choose the lens barrel illumination settings to avoid dark corners in telephoto shots. It is very important. Convert the file to 16-bit TIFF (and NOT 8-bit TIFF or JPEG) and open with your primary editing software such as Photoshop.
The first step would be to get a clean root image to work on. Do the dust spotting as the first step. Take out all small distracting spots and hot pixels using the clone or spot healing tool. It is useful to create a copy of the background layer (main image) and work on that so that if you get something wrong and the step is out of range of the undo memory, you can just start with the original layer below. When you are satisfied, delete the lower layer and duplicate the "properly edited layer" again…
Check the composition and do the cropping if necessary. Make sure you remove all distracting elements from the frame. Try to get the head of the bird according to the rule of thirds and leave space for user application. Do not crop away the images too tightly.
Does your image have bright and dark colors together? If you have an image of a stork with bright white feathers and a dark black beak, apply shadows/highlight correction. It is best to have tonal range set at 25% and radius 30 px for normal adjustments. Totally disable all other functions except the shadows adjustment. Set the histogram clipping values to 0 instead of the default values.

Create a levels adjustment. Drag the left most pointer to right to increase contrast and drag right most pointer left to increase brightness. Use middle pointer to fine tune the results. Levels tool should be used with caution or you will have unnatural WB and exposure. Hence a rejected image.
Curves adjustment comes next. Raising the contrast level using this tool gives accurate results and is extremely flexible. If you don't understand curves tool, read more about it right away or you are missing a lot of Photoshop's real abilities.
Now that you have an image with proper exposure and contrast, you need to focus on colors. Create a saturation layer and boost saturation 6-8 or sometimes even 12 or 20 points…depending on image. Don't overdo this or you get an "overfiltered image" rejection.
Do some channel specific saturation modification in the same "hue/saturation" layer created in step 7. Bring out the blurred blue or green backgrounds. Make sure you don't highlight the background too much and lead the viewer away from the main subject.
Satisfied? Merge all layers except the main background layer. Check with the main image (the background layer – remember? We were working on a copy of it). If you are satisfied, change Image>Mode>8-bit.
Save the 8-bit TIFF (16 bit is an overkill and wastage of space if you already have done all the work properly). Save a JPEG at quality 12 (highest quality) and it is recommended that you include the ICC profile.
That's all – your image is finished and perfected and looks much more appealing than the image you actually shot…all in just 10 steps!
[custom_author=PatrikPanda]